HOME
〉
Sightseeing Information

Sightseeing around ROAN

01

Japanese Beech Primeval Forest Trail
A primeval forest trail of great Japanese Beeches is perfect for bird watching and a relaxing walk into the woods.
There is also a cable car that takes you all the way to the top of Ichirino mountains where you can get a spectacular view of the area.
(Walking Distance: 10 minutes)

02

Soothing Spa "Tenryo"
A comprehensive Spa facility with an open-air rock Onsen bath, a sauna and a relaxation room.
(Walking Distance: 4 minutes)

03

Ichirino Park
Located in the center of Ichirino, this park has an enormous area of fresh green grass and a large pond. Imagine yourself lying on the grass with mountain breeze slightly brushing your cheeks -- what a life!
(Walking Distance: 1 minute)
04

Tennis Courts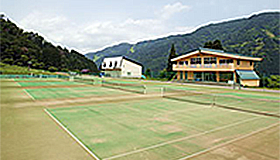 A total of 8 tennis courts next to the ski area. In front of the courts there is the "Nodaira Lodge" furnished with restrooms, changing rooms, resting areas and vending machines.
Rackets and balls are also available for rental.
(Walking Distance: 8 minutes)

05

Barbeque Area
Located next to the tennis courts, the barbeque area is covered with rooftops so our guests can be kept save from the rain.
(Walking Distance: 8 minutes)

06

Hokuryu Hall
This gymnasium is open to groups or individuals for sport activities such as basketball, volley ball, badminton and table tennis.
Conference rooms and training rooms are also available for use.
(Walking Distance: 5 minutes)


01

Hakusan Shirakawa-go White Road
A 33-km driving route that passes through the secluded regions of Mt. Hakusan linking Ichirino and Shirakawa-go.
The wonders of nature are kept untouched, and along the way you will find 7 waterfalls and bright red autumn foliage during fall season.
※ Limited access from beginning of June ~ November 10th. Closed during night hours.
(Driving Distance: 5 minutes)

02

Geyser Tower / Iwama Gorge
Geyser tower is a rare phenomenon where hot spring water is spurt out from underground and components from the water are accumulated over time to form a tower. These towers can be found dispersed around Iwama Gorge and are Japan's Designated Special National Monuments. The view is absolutely breathtaking and is perfect for hiking.
(Walking Distance from Yamazaki Ryokan: 1 hour and 40 minutes)

03

Tedori Gorge ("Watagataki Ikoi-no-Mori")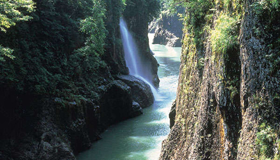 A narrow canyon scraped out by the current of the Tedori River. There is a camping site with bungalows and an observation deck that looks over the spectacular scenery of the 32-m high waterfall.
Visitors can enjoy cycling down "Tedori Canyon Road", which is a biking trail constructed parallel to the river; you can also participate in river rafting activities.
(Driving Distance: 20 minutes)

04

Chugu Exhibition Hall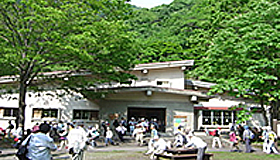 An exhibition hall on the nature of Mt. Hakusan.
Numerous specimen, photographs and movies are displayed.
※ Period: May 1 ~ November 10
(Driving Distance: 5 minutes)
Hours: 09:00 ~ 16:00; Closed during winter season and days other than the period above.
Free Entry

05

Shishiku Valley
A 10-minute ride on the cable car will take you to this Valley of 650-m where you can enjoy the panoramic view of the Sea of Japan. With a restaurant, an observation deck and a camping site, this Valley is a mecca for paragliding lovers.
(Driving Distance: 30 minutes)



01

Iwama Onsen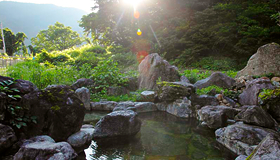 With a history so long, rumor has that this hot spring was founded by monk Taicho, who was the first person to have climbed Mt. Hakusan. The water has a mellow touch and is soft and silky.
Though it is a secluded Onsen, it is only a 20-minute drive away from Ichirino Onsen. Bathing gowns are provided to visitors so everybody can enjoy a dip at this open-air spa together.
Fee: JPY700 (Spa only)
(Driving Distance: 20 minutes)

02

Chugu Onsen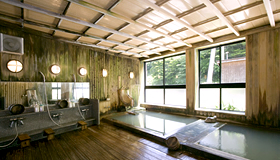 A salt and hydrogen carbonate spring that will make your skin soft and smooth like babies. Besides being the "Spa of Skin Beauty", it is also famous to be beneficial for those suffering from gastric hyperacidity.

03

Hakusan Soba Noodle Streets
The Torigoe District at the bottom of Mt. Hakusan is famed for its production of Soba noodles. It is given the name due to the countless soba noodle restaurants in the area.
Within a 30-minute driving distance there are 25 such restaurants, all are unique in their own ways.