Inside a traditional Japanese residence one will find a sunken hearth called "Irori". Seating alongside the Irori inside this 100-year old traditional home and enjoy the freshly grilled mountain dishes prepared in the old ways. Your palates and hearts will sure be dancing throughout the meal. We often receive praises for the delightful dining experience we provide to our customers.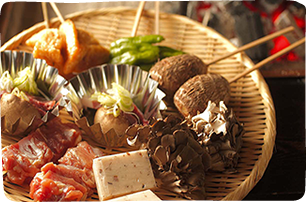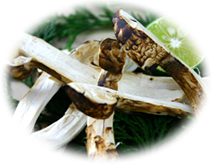 Breakfast is prepared with local ingredients found in the mountains and rivers of Hakusan.
We choose Hakusan's organic Koshihikari rice brand for its scrumptiousness and all guests can enjoy free refills as much as to their likings.
Along with special local dishes, our breakfast is the best way to start your new day with.

Rice

ROAN obtains its rice from contracted farmers of Hakusan who produce the Hakusan Koshihikari brand, which is a brand of rice grains cultivated with reduced amount of agricultural chemicals.
This brand of rice is characterized for its soft and sweet flavor when cooked with fresh cool water from Mt. Hakusan.
Mountain Vegetables

ROAN uses wild vegetables found in the surrounding mountains, thus everything is organic and pesticide-free. The locals have developed excellent preservation technologies where vegetables picked in Spring can maintain its freshness for a whole year.
Magnolia Leaves

Large leaves are picked from wild Magnolia Trees and are stored in vacuum packages so they can be used throughout the year. Magnolia leaf has the power to enrich the flavor and brings the cuisine to a whole new level.
River Trout

As ROAN maintains a fish reserve of river trout, all dishes are freshly prepared.
Mountain trout and rainbow trout raised in the cold sacred water of Mt. Hakusan have firm fish meat and particularly delicious. They can be prepared as sashimi / arai dishes, or can be salt-grilled over the Irori.
Hakusan Hard Tofu

A type of tofu prepared in the rural areas, it is said to be firm enough to not fall apart when moving it with a rope tied to the tofu. It is a unique kind of tofu that carries an excellent taste when prepared as a sashimi dish, and can only be found in Okinawa and Hakusan.
Hida Beef

Premium fillet steaks obtained from Hakusan's neighboring area Hida.
Highly praised for its tenderness and sweet taste after seared over charcoal flame.
Bear Meat

The meat from Asia Black Bears caught in Mt. Hakusan by local hunters does not have any unpleasant odor, and with its fatty portion being juicy and sweet, it can be prepared into exquisite gourmet dishes.
Boar Meat

The meat from boars caught by local hunters is cooked in low temperature for a softer texture and to remove the unpleasant smell. It is of richer and sweeter flavor than pork.

Traditional Charcoal Grill Restaurant "Yasuke-Don"
Decorated with traditional pothooks and antique clocks, this restaurant gives out an elegant ambience with its red lacquered window frames.
Stations of Japanese hearths can be arranged upon request, including arrangements for pirate room usage and for large party groups.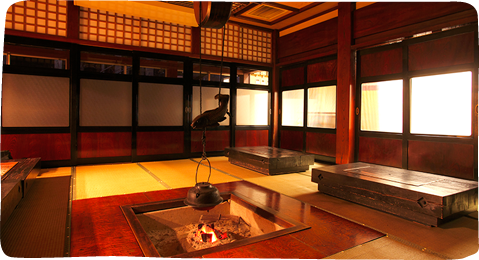 Mountain Villa Charcoal Grill Restaurant "Sugi-no-Ko"
Popular among families with children and seniors, this restaurant furnishes the tables with charcoal grills where guests can sit comfortably in chairs while enjoying their meal. The huge dark crossbeams add a sense of character to this venue.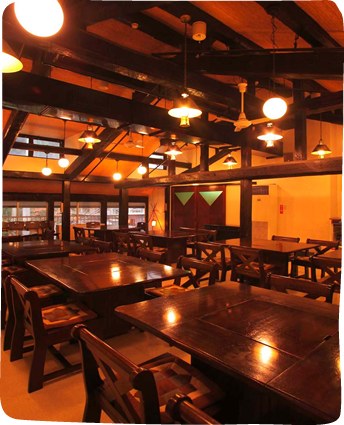 ROAN offers special gourmet menus for guests to enjoy the various ingredients of the four seasons, such as "Assorted Mountain Veggies" Menu for Spring; Barbeques in the Summer; "Assorted Mushroom" Menu for Autumn; and "Hotpots of Boar/Bear Meat" Menu in the Winter.
Along with the famous Hida Beef, there are also a la carte menus and alcoholic beverages such as local Japanese sake, Japanese Shochu and wine available for an extravagant dining experience.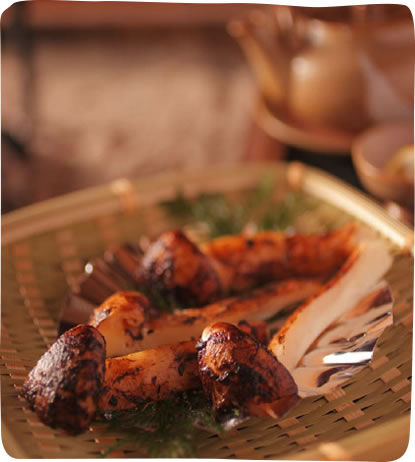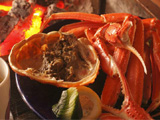 Hida Beef Fillet on a Skewer JPY1,800
An exceptional dish of charcoal-grilled premium Hida beef.
Boar Meat on a Skewer JPY600
Cooked under low temperature for a softer texture and to remove the unpleasant smell, the boar meat is then seared over charcoal flame to enrich its flavor.
Mountain Trout Bone Sake JPY2,000
The flavor of grilled mountain trout fish bones is added to enhance the rich and sweet taste of Japanese Sake.
Mountain Trout "SOROBAN" Sashimi JPY800
A rare type of sashimi where fish skin and bones are served with the flesh; the crispy and crunchy texture is something to die for.
Mountain Trout Sashimi JPY800
The sashimi of mountain trout nurtured in the clean fresh water of Mt. Hakusan is absolutely exquisite.
Seared Bear Meat JPY1,800
A special gourmet of the Hakusan region; raw bear meat is slightly seared over charcoal fire to maintain its juicy texture.