Lobby &
Coffee Shop
Decorated like the entrance hall of a mountain villa, the lobby also has a dining area where one can order coffees, ice-creams, etc.
Enjoy a luxurious and relaxing moment while looking out at the sceneries of the garden.
Terrace & Inner Garden
From the terrace you can overlook the garden enclosed by surrounding forests; you can also walk straight down from the terrace and enjoy a relaxing stroll in the inner garden.
Sightseeing Information Rack
Tour maps and sightseeing pamphlets are available for your reference. For more information please feel free to ask our staff at the front desk. Discount coupons are also available.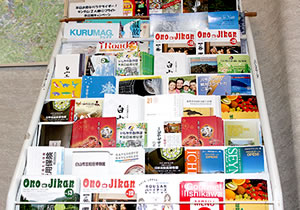 Fireplace
It sure feels like heaven just by sitting in the VIP rocking chair in front of the fireplace.
The sound and flame from the burning firewood will keep you cozy in and out.
Stone Sauna &
Beauty Room
2 stone beds are available to provide a soothing sauna experience to our guests.
2 guests per group,
JPY2,100 / 50 minutes per group.
Games Corner

Popular to both children and adults.
Recreation Room

Pool, Table Tennis and Foosball are available for JPY300 / 30 minutes each.
Souvenir Shop

Offers a variety of souvenirs including handmade confectioneries from ROAN as well as local specialties from the Hakusan Region.
Banquet Venue

A large hall with a capacity of 80. Can be arranged with chairs or floor cushions.
Karaoke Room

JPY3,800 / hr; maximum capacity: 20
Large Screen

& Projector

Guests can enjoy playing video games or watching movies on the big screen!
JPY1,000 / 30 minutes
Games Rentals

Family funs such as Jenga, Othello, Monopoly, Shogi, Chess, Playing Cards and various board games are available for rent.
JPY200 / day each.
Relaxation Space

Guests can use this space to have a relaxing drink and engage in a time of quiet late-night chat.

Capacity

130
Guest Rooms

29 Rooms
Japanese Style Rooms (without Bathing Unites)

17 rooms (6 ~ 15 Tatami Mats) (10 ~ 26m²)
Japanese Style Rooms (with Bathing Units)

5 rooms (10 ~ 18 Tatami Mats) (18 ~ 32m²)
Western Rooms (with Bathing Units)

5 rooms (Twin, Triple and extra beds available)
Special Suite with an Open-air Onsen Bath

1 room
Guest Room (pets allowed)

1 room
Room for Pet-Sitting

1 room (not available during winter season)
Banquet Venue
Traditional Charcoal Grill
"Yasuke-Don"

Capacity: 115 (smaller rooms available)
Mountain Villa Charcoal Grill
"Sugi-no-Ko"

Capacity: 40
Grand Hall
"Kaga Hakusan"

Capacity: 80
Conference Room

Capacity: 40
Spa (including open-air baths)

Capacity: 30 each (Men & Women)
Private Onsen Baths

2 (Private Rock Onsen Bath and Private Cypress Onsen Bath)
Games Corner

2/F Lobby
Coffee Shop

1/F
Souvenir Shop

1/F
Ski Lockers

1/F (Direct access to ski area. Available during ski season only)
Changing Room 1/F

Allow guests to change when they arrive and leave the ski area (Available during ski season only)
Coin Lockers

Next to the Ski Lockers (Available during ski season only)