HOME
〉
The 7 Forms of Hospitality
[ Accommodate to guests' desires and needs ]

Wide selection of room types and cuisines
To ensure all our guests are well accommodated, we have assorted menus of cuisines as well as three different types of rooms (Special Suite with an Open-air Onsen Bath; Japanese Style Rooms and Western Rooms) for you to choose from.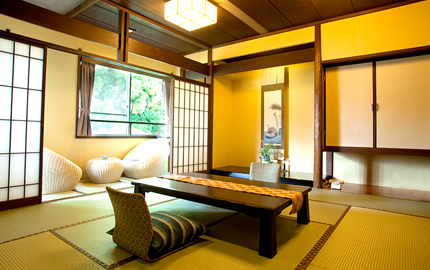 [ Pick your own Yukata from our grand selection. ]

Yukata and Samue are available for both male and female guests.
ROAN has started a free Yukata rental service to all guests! Our lineup of Yukata is with various designs and colors for both male and female visitors. ROAN even offers an exclusive design of Samue; its softness and lightweight make it extremely comfortable to wear. Samue can also be purchased at our Souvenir Shop.
Free Yukata rental service for both male and female guests 〉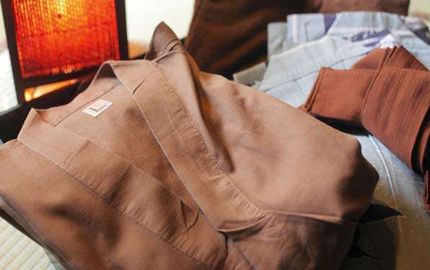 Open-air Onsen Bath enclosed by forest trees

Perfect way to relax your body and soul!
At this Open-air Onsen Bath, you can take a relaxing dip in the hot spring while breathing the refreshing air from surrounding forests.
Fresh air containing an abundance of active elements such as Phytoncides and Terpenes create a synergistic effect with negative ions and provide a soothing experience to one's mind and body.
The scenery of morning sunlight shining down through the trees is exceptionally stunning.
[ An exclusive high quality hot spring ]

A selection of Private Onsen Baths
"Iwa-no-yu" (open-air Private Rock Onsen Bath surrounded by forest trees) and "Hinoki-no-yu" (interior Private Cypress Onsen Bath)
2 types of Private Onsen Baths, both with water flowing directly from the hot spring source.
Enjoy our exceptional hot spring at a private setting, where one can truly appreciate a time of relaxation and revitalization.
Overnight usage is also available for reservation.
[ Hot spring with a prominent historical background ]

A hot spring source with high water temperature discovered deep inside Mt. Hakusan by the owner of ROAN two generations back.
The exceptional hot spring of ROAN is the result of great efforts performed by the owner two generations back. Even being told that it was an act of recklessness, he was able to clear the forest with his passion and diverted the water source all the way back to ROAN.
And that is why we cherish this hot spring of passion at ROAN. We do not mix it with water. No Chlorine is added, and we do not boil or recycle the hot spring water.
All of our Onsen Baths have free-flowing hot spring water 24-7 so our guests can enjoy the hot spring at all times.
The hot spring water is crystal clear with a slight fragrant. It is an alkalescent Onsen recognized for its soft and silky touch. Once you take a dip into our Onsen Baths you will sure experience the sensation of your skin turning smooth and soft.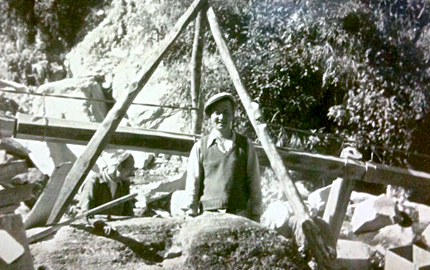 Seating alongside the Irori

inside a 100-year old traditional home
At ROAN, there is a Irori (Japanese hearth) inside a100-year old residential home which was moved and renovated to its current location. Huge dark crossbeams and red lacquered window frames are features of these restaurants constructed with Zelkova woods.
The sights of antique clocks and pothooks hanging above the Irori will bring you back in time to ancient Japan.
Just like in the old days, fresh mountain and river ingredients gathered from Mt. Hakusan line the edges of the Irori and then grilled over charcoal flame. We often receive praises for the remarkable dining experience we provide to our customers.
This is definitely a unique way to a feast that can only be found at ROAN.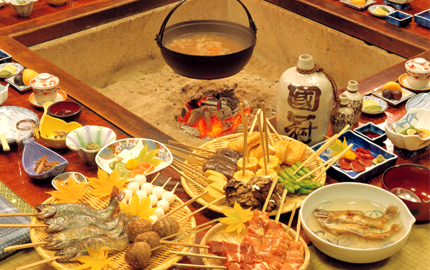 [ Conveniently located for sightseeing! ]

Close proximity to various renowned sightseeing spots
Hakusan Hotspring Resort's Ichirino Onsen is about 1-hour drive away from Kanazawa – a castle town with countless famous landmarks such as Kenrokuen Garden, Teahouse Districts, Samurai Residential District, 21st Century Museum of Contemporary Art, Kanazawa, etc.
For the spectacular view of Mt. Hakusan, the "Hakusan Shirakawa-go White Road" is just 10 minutes away by car, and you can reach the World Heritage "Shirakawa-go" in just 90 minutes. From there, another 30-minute drive will take you to Takayama. It is quite uncommon to be able to travel to so many famous spots so easily, but thanks to the convenience of its location, the Hakusan Hotspring Resort makes it all possible.